Home
> Products > Productsdetails
Caterory
Contact Us
HANGZHOU SUNCHEM
Tel: 0571-8536 0887
Phone: 135 8847 0430
Fax: 0571-2820 6895
E-Mail: sales@hzsunchem.com
Address: No.549 Hemu Road, Hangzhou, Zhejiang P.R.China 310011
Data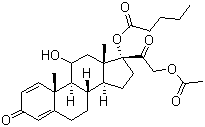 Prednisolone Valerate Acetat...
| | |
| --- | --- |
| Product Name | Prednisolone Valerate Acetate |
| CAS NO | 72064-79-0 |
| | Buy Now |
Prednisolone Valerate Acetate
Description :
Synonyms
11beta,17,21-trihydroxypregna-1,4-diene-3,20-dione 21-acetate 17-valerate;
Prednisolone valeroacetate; Prednisolone 17-valerate 21-acetate; Acepreval; Lidomex;
Prednival 21-acetate;Pregna-1,4-diene-3,20-dione, 11b,17,21-trihydroxy-, 21-acetate 17-valerate (7CI);
EINECS: 276-312-8
Molecular Weight:486.605
Formula: C28H38O7
Density:1.22

g/cm

3
Boiling Point:

610.9oC
Flash Point:196.3 oC

Refractive index:

1.558
Quality standard: USP/EP/JP
Specification

Description: White crystalline powder

Solubility: Freely soluble in Acetone and Dioxane.

soluble in Methanol and anyhydrous Ethanol.

slightly soluble in Ether.

Melting point: about 186℃

Optical Rotation: +30°~ +35°
Heavy Metals:20ppm max.
Loss on Drying:1.0% max.
Residue on Ignition:0.2% max.
Assay(on dried basis):97.0%~ 102.0%
Packing
in a proper package, such as Tin, drum or carton, or according to the customers requirement.
Storage
store in an airtight container in a cool and dry place protected from light.
Application
used in medical industry.